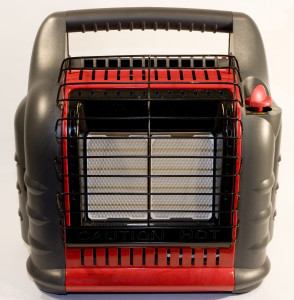 The changing season is upon us. School has started and it won't be long before we are pulling out those jackets and watching Friday night football. The chilly air may not warrant turning on the furnace, but you will still need to take the chill off. Your trusty space heater is always an option. When you are sitting at your desk or when you first step out of the shower, it can be a little cold. The space heater is perfect to warm up your immediate space without heating up the entire house. Before you plug it in that first time, it is a good idea to read the following tips provided by an electrician in Los Angeles. If you would like a professional to do the inspection, give The Electric Connection a call.
1-Thoroughly check the cord on the heater from end to end. Look for any areas of the cord that have been chewed by mice or pets that have left the wires exposed. If there are exposed wires, do not plug the space heater in. Either take it in to be serviced or throw it out. Wrapping black tape over the cord is not a safe option.
2-Choose a spot to place the heater that gives it plenty of clearance from the wall, furniture and curtains. You need to allow at least 3 feet of space between the wall and the heater. Heaters need ventilation to work properly.
3-Do not use extension cords to plug in the heater. It increases the risk of tripping and knocking the heater over. If you don't have enough outlets, consider having an electrician add additional outlets. Upgrading your Los Angeles electrical system is a worth investment for your home. Give The Electric Connection a call today to add more outlets to your home.