With spring upon us and summer just around the corner, you are probably itching to get the pool uncovered so you can host the first pool party of the season. Before you do that, you may want to consider upgrading, adding or replacing your existing pool lights. Pool lights add a certain quality to a pool while providing a layer of safety. However, there are several lights to choose from and you need to know which lights are best for your needs. An electrician in Beverly Hills has some tips for you to use when choosing your pool lights. If you have any other questions, you can call The Electric Connection.
There are two main options available for your pool lighting needs; in-ground and above ground. The above ground option is the cheapest. The in-ground tends to be a favorite simply because it provides a more uniform look.
Above Ground Options
Floating pool lights are inexpensive and do not require a Beverly Hills electrician to install. Simply pop the lights in the pool and it is done. The lights are festive, but they can interfere with swimming. You will also not have the benefit of the lights being stationary. It seems they tend to congregate and float to one area of the pool. For soft-sided pools, there are magnetic lights that stick to the side. These are again very easy to install and reliable.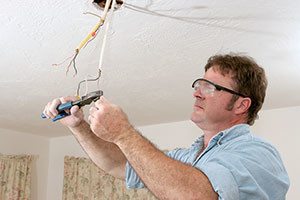 In Ground Options
LED bulbs are extremely bright and will last for around 10,000 hours. The lights are sealed in a waterproof housing. You can expect the bulbs to last anywhere from 10 to 15 years depending on how often the lights are used. Fiber optic lights are another option. However, they do tend to be much more expensive and the bulbs do not last nearly as long. In either case, you would need the pool lights installed by an electrician. Beverly Hills homeowners need to hire a professional to ensure the lights are installed safely and do not pose an electrical hazard. Give The Electric Connection a call today to schedule your pool light installation.