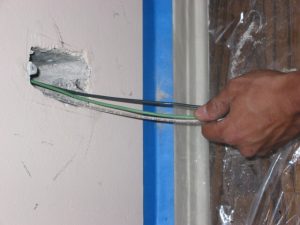 Your Beverly Hills home wiring is vital for electrical safety and functionality, and in some situations where it becomes inadequate, you will need to rewire your home.
Rewiring can be a major project, but with proper planning and the right professional, it can be completed successfully and quickly.
Choosing a pro or going DIY
When it comes to any electrical works, you will always be encouraged to hire a professional electrician. Sometimes it might seem like an expensive option you can do without by going DIY. See the pros and cons of doing it either way to make the choice for rewiring your Beverly Hills home.
Hiring an electrical technician (PROS)
It keeps you and your home safe
The electrician obtains the permit
An experienced and licensed electrician is up to date on local codes
Inspections can be passed immediately and smoothly
Professional electricians have insurance that protects you from responsibility if anything goes wrong.
Cheaper in the long run
Rewiring by an experienced electrician is much faster
Get a quote on your house rewire from a professional
Hiring an electrical technician (CONS)
A costly option initially
It might be hard to find a dependable electrician
DIYing your rewiring project (PROS)
Saves you money initially
You can rewire your home at your preferred pace
DIYing your rewiring project (CONS)
You will spend time – as much as weeks- planning and doing the dirty work like running wires, cutting, drilling, installing, and more.
You will need to know the local electrical codes
Obtaining the permit falls to you and passing inspections can be tougher when you DIY.
DIYing your Beverly Hills home rewire puts lives and properties at risk.
You take responsibility for anything that goes wrong and often permits require that you must stay in the home where you DIYed for a year.
Insurance companies can deny your claim based on electrical works done as DIY projects
Understand what it involves
Every homeowner's needs differ in home rewiring. The only way to know what will be involved in your home rewire is to call an electrician for an inspection. You might need to replace your breaker with a bigger one if it is undersized. Older homes often used breaker panels of 60-100 amps, but modern homes use 100-200 amps and sometimes more. The reason for this change is that modern homes have far more electrical power demands/appliances than older homes. Also, safety codes have changed over time to accommodate electrical needs.
The rewiring project can also include replacing old outlets and fixtures, GFCI, and proper grounding.
Your electrician will inform you of any repairs, replacements, upgrades, and more relevant to your home rewire.
What to expect when rewiring your home
Rewiring can be disruptive. It's almost expected because you will have wires been run through the house, holes drilled in the walls, opening ceilings to give the electrical contractors access, and so on. It can get messy and the electrical power to the home will be shut off while the work goes on.
The good news is, the right electrician can complete a home rewire quickly and in a hassle-free manner. Contact us today for your Beverly Hills home rewire.