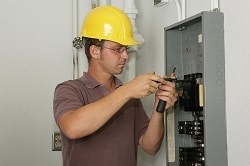 The words 'electrical contractor and electrician' are often used interchangeably. Many people do not know the difference between both but assume they mean the same thing. In this article, we will discuss what an electrical contractor does and how they are different from an electrician.
An electrical contractor is a business person or company that performs specialized tasks or construction work in relation to the installation, maintenance, and design of an electrical system. In simpler terms, an electrical contractor can be either a firm or a person who performs electrical tasks. An electrician is a personal tradesman. Electricians are employed by electrical contractors.
Job Duties and Description
The duties of an electrical contractor include the installation and maintenance of electrical systems. These are performed on building wiring, breaker box, switches, light fixtures, and so on. Electrical contractors work on residential, commercial, and industrial setting. Their work hours depend on the task at hand. Electrical contractors work within or outside a home or building, they are not restricted like electricians. For example, they may work on power stations while a regular electrician can't. There are different types of electrical contractors and this makes their services specialized. Some electrical contractors are skilled in almost all areas.
Line Electrical Contractors
Line or outside contractors work on electrical installations or maintenance which are located outside buildings. This primarily includes working on high-voltage power transmission and distribution lines. They ensure the power plant is functional and distributes power as needed into homes and buildings.
Inside Electrical Contractors
These group of contractors work within the boundaries of a property. They provide cabling, installation, maintenance, rewiring, and repair services within residential, commercial, and institutional buildings.
Voice/Data/Video Electrical Contractors
Also known as Integrated Building System Electrical Contractors, this type of electrical contractors work with low-voltage installations to ensure they are efficient, functional, and energy saving. These include power controls, backup power, wireless networks, energy-efficient lighting, fiber optics, telecommunications, and security systems.

Becoming an electrical contractor requires an apprenticeship program of 4 years. Electrical contractors learn everything from math, electrical theory, blueprints, work safety, and National electrical codes.
Benefits of Using Electrical Contractors
As a business person or firm, an electrical contractor employs other professional electricians. Hence, work is faster, efficient, and most times affordable. You can also reach out to an electrical contractor for consultation, inspection, and other informational services before hiring to complete the job. They can advise you on the best installations necessary or suitable for your home or building. They can provide energy-saving alternatives and help you establish an overall dependable electrical system. Electrical contractors are experts in troubleshooting services and respond promptly to your needs. With electrical contractors, you are assured of experience, reliability, and professionalism. Unlike an electrician who is an individual tradesman, you can depend on an electrical contractor of a firm. They have integrity and access to all the equipment required for a project. An electrical contractor takes safety seriously. Contact us at The Electric Connection for your outstanding electrical services.