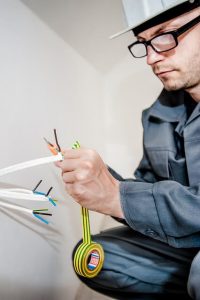 Electricity is used so much in our homes we might take for granted how dangerous it can be. Whenever homeowners need work done on their homes and it involved the electrical system, it's necessary to call a licensed and insured electrician to help out. It might seem like a simple task to replace a light fixture or update an outlet, but the safest option is to go with a professional electrician.
When working with an electrician you are ensuring that your home and family are safe from any accidents that may occur if you try to perform the electrical work yourself. You are also ensuring that your insurance rates will not go up if you try to work on a DIY electrical project. But how do you find the best electrician near you? Take a look at our tips below for some assistance.
Year in Business
How long has the company you're looking at been in the business? It's possible to be a great electrical contracting company just out of the gate, but in order to find the best electrician possible, you'll want to find someone who has been around for a while. Working with electrical isn't an easy take and can be dangerous if not completed correctly. If you find an electrician who has been in business for a couple years, this is a good indication that they have made a lot of customers happy.
Ratings, References, and Reviews
The best place to look for a new electrician is with your friends and family. Getting a recommendation from someone you know is the best place to start. If your friends and family have trusted this electrician to do work on their homes, you can feel safe having them perform work on yours.
The next place is to look for reviews and ratings. Online websites, such as Yelp and Angie's List, have been helping homeowners find the best service providers in their area. Read all the reviews to make sure the electrician you have chosen is competent and can perform the work you need to be completed.
Take a Look at Their Services
Make sure the electrician you have chosen can perform the work you need to be done. Many electricians specialize in different areas so it's important to be sure they can complete the work you need to be completed before scheduling an appointment.
It can be a difficult task finding the best electrician to perform work in your home but if you follow these steps you'll be on your way with your next electrical project in no time.
The Electric Connection has been providing Los Angeles residents and business owners with expert electrical services for over 30 years. Please contact us if you need any assistance.