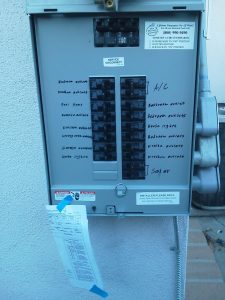 Your home's electrical panel is the source of electricity to your home. It is where the power from your utility company is distributed across circuits, outlets, and all areas where they are needed in the home.
All too often, homeowners try to DIY some electrical services and the short answer to the topic question is yes. The long and safer answer, however, is no.
An electrical panel should only be replaced for reasons such as the following;
The panel is faulty
The panel is old/ you live in an old home
It's not up to code
You need to add a new appliance, renovate your home, or need more power.
Why an electrician should replace an electrical panel?
Replacing the electrical panel can involve rewiring the home as well. It also means having to deal with permits, a dangerous amount of electricity, and so on.
An electrician should be one to replace or repair an electrical panel because they are trained, experienced, and knowledgeable on the project. An electrician knows the safety measures to put in place to protect himself and your home while working on such a demanding project. Electricians are updated on the latest National Electrical Code information. They are insured to cover any injury or damage gotten from the project – which is unlikely for a homeowner.
Taking directions or advice on the process from online sources still means you are unsure or uninformed about what you're doing and this could lead to fatal injuries and fire.
 What you need to know before replacing your electrical panel?
You will need a permit. A panel replacement is a serious electrical project that often requires the technician performing it to pull a permit.
In some states, it's illegal for a homeowner to do electrical works themselves. You would be unable to pull a permit in this situation. You would also need to get the final work inspected.
It goes further to when or if you intend to sell your home. Some states require that homeowners provide a list of all modifications or repairs done to the home without a permit.
Before you take on replacing the panel yourself, it's important to first check with your local laws and know what's legal or required.
Learn the safety measures involved and understand the steps well before starting the project.
While many homeowners can replace their electrical panel, most choose to leave it to the professionals. The cost and hassle of hiring an electrical technician for the project are worth it when your safety is on the line. A professional replacement guarantees a reliable system and no conflicts with the law. You can get an inspection, sell your home smoothly, and enjoy your upgraded electrical system as you want.
With experienced electricians such as The Electric Connection, a panel replacement can be affordable and stress-free. We do our best to make this less worrisome or intrusive on your part. Start by scheduling an inspection to confirm if your panel should be replaced or repaired.