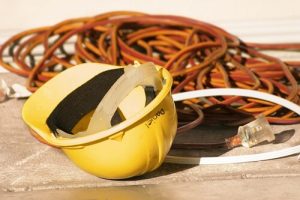 Summer is the time of year when you want to be outdoors doing something. It is a great time to make your outdoor living space a little better or maybe to build a space. Fixing the deck, taking care of loose fence panels or maybe building the kids that playhouse they wanted are all great ways to spend a couple of days off. Using power tools to complete those jobs makes it a little easier and faster. However, your Glendale electrician wants you to always be safe when working outdoors with electricity. The team at The Electric Connection has a few tips to ensure you stay safe while working on your outdoor projects.
1. Only use an extension cord that is rated for use outside. These will generally be orange, round and have a 3-prong outlet. The cord should be in good condition with no frayed or exposed wires.
2. Don't use power tools if it is raining out or the ground is wet.
3. Do not string more than one extension cord together says an electrician in Glendale. You will lose a little electricity and risk damaging your power tools by trying to use a low current.
4. Make sure your outdoor outlets are protected from the weather. The outlets should also have ground fault circuit interrupters. If they don't call an electrician. Glendale homeowners can have new, safer outlets installed that will protect them from an electric shock.
5. Pay attention to your surroundings. If there are powerlines over head, be extremely careful when moving ladders or carrying tools that may come into contact with the lines. If you are going to do any digging, call your electric company to have a quick inspection for any buried cables.
Outdoor projects are a fun way to spend your summer days. Don't let a project turn into a safety nightmare. If you have any questions or need those outlets installed, give The Electric Connection a call today.