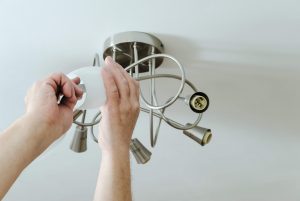 If you are redesigning a room in your house, it is important you look beyond the paint color on the walls and the type of flooring in the room. You need to take a long, hard look at the lighting. It isn't just about replacing tired, old fixtures. It is about making a room pop with the just right amount and right style of lighting. There is no one size fits all when it comes to lighting. Each space requires something a little different explains and electrician. Santa Monica homeowners who are ready to revamp their space with a new lighting look will want to call The Electric Connection to take care of the lighting transformation.
One of the most important considerations for changing up the lighting in the room is determining what the area is going to be used for. This will decide how much and what kind of light you need to make it gorgeous and functional. Using fixtures that match the décor is also an important deciding factor.
Entryways and hallways that have little to no natural light will benefit from lighting directed at the walls and ceilings. Recessed lighting with medium brightness is perfect for these areas says a Santa Monica electrician. Kitchens deserve all the lighting you can put into the space. Bright LEDS on a track lighting system are a perfect choice. You can add some pizazz by installing pendant lights over a center island.
Living rooms are typically best served with a medium to low light scheme. Use table lamps for areas where you need additional light for reading or other focused tasks. Ceiling fans with adjustable lighting are a good choice in this area suggests an electrician in Santa Monica. Have some fun picking out fixtures and then give The Electric Connection a call to have them installed.