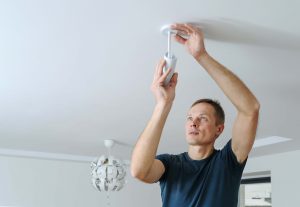 For many homeowners, the thought of hiring an electrician often comes after an emergency or when performing a remodeling or new construction. Before you actually need an electrician, it's important to do the research to find a good one in case something comes up. By finding a professional electrician you can trust, you will be sure that you will have help when you truly need it.
The easiest way to find an electrician you can trust is to have them come out periodically for home inspections. This way, your electrician can become familiar with your home if an emergency were to arise. Regular inspections of your home electrical system can also help find potential issues that you might not be aware of.
Finding the right electrician is an important task due to how much of your home relies on your electrical system. Your electrical system is the backbone of your home. Without it, you would not be able to do anything other than sit in darkness. If your electrical system is failing, you can be without power for days – or worse, it can cause a fire and you will be without a home.
When researching an electrician for your next electrical project, be sure to get multiple bids and check out the validity of your electrician choice. There are few things to look out for when choosing your next electrician:
1. Education and Experience: A good electrician will have a couple years of experience under his or her belt. Be sure to check all their certificates to ensure that have passed the proper tests in order to do work in your state.
2. Permits: Most cities require permits to be pulled for switching out a simple light switch. So if you require a permit, make sure your electrician can help you out here. A professional electrician may even be able to do this for you.
3. License: Many states require electricians to be properly licensed. Be sure to check that your electrician has a proper license and it is up to date. Another good thing to check for is insurance. That way if anything goes wrong with the job, you're covered.
4. Reviews: Getting good feedback from someone you are going to hire to come into your home is always a good thing. You can check their website for reviews or other social sites, such as Yelp or Google My Business. Make sure the electrician you have chosen has positive feedback from their customers.
Finding a fast and friendly electrician isn't hard if you follow the steps above. Once you find an electrician near you, you will be set if an emergency electrical situation should arise.
If you live in the Los Angeles area and are looking for proficient, understanding and honest electrical experts, we hope you will consider using The Electric Connection of Los Angeles for your electrical work. Whether it's for a new installation of electrical equipment, or repair of any part of your existing electrical system, we honestly feel that we can provide you with electrical services unparalleled by any other Los Angeles electrical contractors.