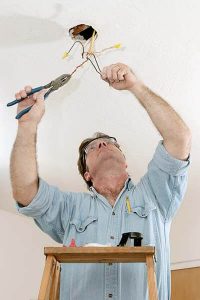 Out with the old and in with the new can make a big difference in the way a room looks. Every decade or so, there are new trends in home decorating and construction. Those new trends are appealing to potential buyers and for those who don't plan on selling, but like the latest trends, you can enjoy them too with the help of a Glendale electrician. One of the trends that tends to change often is lighting. You don't have to completely remodel your home to stay with the times. You can call The Electric Connection and have new light fixtures installed that make your home look and feel more modern.
There are some other advantages to upgrading your old light fixtures as well explains an electrician. Glendale homeowners that want to use the more energy efficient bulbs on the market may need to have a new fixture installed to accommodate the bulbs. Those LEDs that are very popular right now don't always work in the older fixtures. CFLs may also be too long or too wide to fit into an existing fixture. If you haven't been into the lighting department lately, take a trip and discover all of the new styles. You will be amazed.
When you choose to update the old fixtures with newer, more energy efficient light fixtures, you are also getting the peace of mind knowing the electrical wiring is safe and up to code. When your Glendale electrician is taking care of the removal of the old fixture and the installation of the new, the electrician will get a peek at what's happening behind the walls and in the ceiling. This can tell you the condition of the wiring and whether you need to consider having other outlets, switches and fixtures replaced. Give The Electric Connection a call today and schedule your new lighting installation.