You might be thinking, "do I need a fan in my bathroom?" The answer may surprise you. In addition to keeping the bathroom from getting too hot, a bathroom fan actually has many benefits. The first purpose of installing a bathroom fan is to keep the moisture out of the room. The fans can also help remove odors as well as remove fumes from cleaning materials that might pose health issues.
Where to Install Bathroom Fan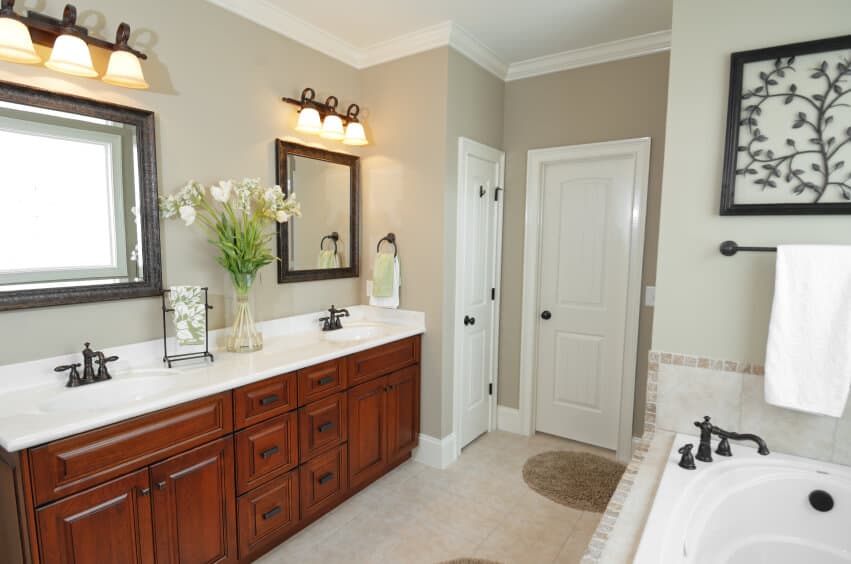 There is actually a lot that goes into deciding where to install a bathroom fan. If you have a smaller bathroom, this may be an easy decision, but larger bathrooms require some thinking and math. Design architects and builders work hard to ensure that bathroom fans are placed in the right spot not only for safety and proper ventilation but also for the aesthetics.
The most important aspect of finding a place for the bathroom fan is finding the right size fan. So, what bathroom fan do you need? It must be big enough to ventilate your entire room or else it's purpose is diminished. There is a simple math equation that helps determine the size of fan you need for your bathroom. Simply take the volume of your room (the cubic feet) and then multiply that by 8 (which is the number of exchanges of air per hour). Take this sum and divide it by 60 which will result in the required CFM, or cubic feet per minute, you need for the room.
Once you know which bathroom fan to buy, finding the right spot is pretty easy. Heat rises and the primary function of the fan is to reduce the moisture in the room so the best place for the fan is in the ceiling that is the highest from the ground. You should also place the fan near the element that is creating the most moisture or odor. Do not just place the fan in the middle of the room, it should be placed either over the toilet or the tub. Remember that fans placed over a shower or tub must be rated for where they are located and protected with a GFCI.
When To Install A Bathroom Fan
If you currently do not have a fan in your bathroom, you might want to consider installing one. This will help remove the moisture and unpleasant odors. Without a bathroom fan, you might find yourself cleaning the bathroom more. You might even be faced with a mold problem if the moisture can't escape properly.
When To Replace A Bathroom Fan
When your bathroom fan starts acting up, how do you know if you need to replace it? Repeated use of any device can cause it to fail over time, but fortunately there are some warning signs to look out for.
Odd noises or sounds. Loud throbbing or clanking can mean that the bearings are starting to fail or the blades are not aligned properly. It's important to realize that most bathroom fans cannot be repaired properly so they must be completely replaced. Since the unit is sealed, it is impossible to grease the bearings so when they stop working the unit must be replaced.
Power up time. If you are noticing that the fan is starting slower and slower it may be time to replace it. Sluggish or slow startup times means the unit is starting to fail.
No power. When you turn on the fan and nothing happens, this might be a big sign it has failed. If you have access to check for power, do so, but it might be time for a replacement. The electrician you call to replace it can give you a more accurate diagnosis.
Bathroom fans are a great addition to any home, almost a necessary one. Any electrician can help you decide which one to buy and where to place it. Be sure to ask for references before you have an electrician visit your home.
The Electric Connection is proud to serve the people of Los Angeles and the surrounding areas. We have been installing bathroom fans for over 30 years. Our electricians are licensed and insured to bring you the best services in the area. Give us a call today to get on schedule.