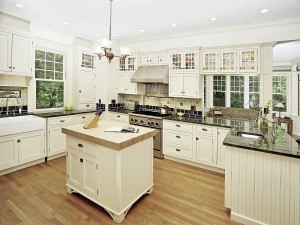 If you have ever watched a home makeover show, you know the kitchen is one of the most popular areas to improve. Some of the kitchen upgrades include new cabinets, counter tops and appliances. Any one of those things can run you upwards of five thousand dollars. Big renovations like that are not always feasible for everyone. Fortunately, you can still give you kitchen a face lift, without paying a huge price. All you need to do is give an electrician in Pasadena a call. The crew at The Electric Connection can help you make your kitchen look more modern, brighter and completely different.
One of the quickest ways to change the way a room feels is by opening it up. Kitchens that have hanging lights or even track lighting may feel a little closed in, simply because the space that is eaten up by the hanging lights. It detracts from the kitchen. When you have recessed lights installed by a Pasadena electrician, you will free up that space. The recessed lights are flush with the ceiling and leave plenty of head room. When you walk into the kitchen, you see pretty counters and cabinets and not light fixtures. Your view is not impeded, which makes the room feel bigger and more airy. Removing window treatments can also help open up the room.
The lights look clean and many people appreciate the sleek look they provide. With nothing getting in the way, you can see the entire kitchen explains an electrician. Pasadena homeowners will love the fact that there are different sizes and pretty options for adding rims around the lights for a more dramatic effect. You can choose to have a couple of lights or flood the room with lots of lights. Give The Electric Connection a call today and see how you can renovate your kitchen for very little investment.