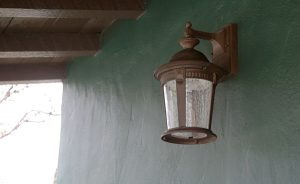 As you drive down the street, you notice other homes in the neighborhood for a couple of different reasons. Either the home and the yard are very attractive and you are drawn in or the home and the front entrance are a bit messy or disheveled. Curb appeal is something many homeowners strive for. They want a nice looking yard and they want their home to appear to be inviting as well as taken care of. There are plenty of things you do everyday to achieve that, like watering the lawn or planting pretty flowers. Another option that is often overlooked is the lighting around the front door area. An electrician in Burbank is here to tell you why you should think about upgrading your lighting. The team at The Electric Connection can help you make it happen.
The standard porch light that comes with every home is sometimes just not enough or it just isn't all that attractive. Depending on how large your yard is, the design of your front entryway and the location to the nearest street light, you may need more light explains an electrician. Burbank homeowners that want to enhance their front door area, rather than just light it up, will love some of the attractive designs available. You can go classic or with some of the more modern styles.
You can choose to go with nice bright LEDs or something a little softer. Once you have made a decision about your outdoor lighting, give your Burbank electrician a call. Wiring in lights is something that should always be left to the professionals. This ensures the job is done right and you don't have to worry about any bad wiring causing problems down the road. Give The Electric Connection a call today and schedule your front door lighting revamp to improve your curb appeal.