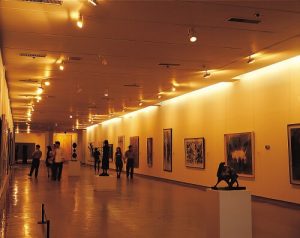 If you have recently acquired a commercial property, one of the first things you will want to address is the lighting in the place. There are many different lighting types based on what you need and what the property is going to be used for. There is no one-size-fits all when it comes to lighting. You have plenty of options and in many cases, updating the lighting can save you money on the electricity bill. An electrician in Los Angeles, like those at The Electric Connection, can help you decide what is right for your new property.
Gone are the days when you were stuck with plain, often garish fluorescent lighting that can be rough on the eyes and even rougher on the way a room looks. Nowadays, we are lucky to have daylight tubes that can replace the old fluorescent lights. Those fixtures are best in an office space or area where bright lighting is needed and natural light is not an option explains a Los Angeles electrician.
Having directed light via a track lighting system is a great option for small areas that need more light in certain places, like over a workstation. This gives you the freedom to not only direct the light, but to choose the wattage of the bulb as well. Track lighting isn't just for the kitchen! Another lighting option that is regularly seen in homes, especially new construction, is recessed lighting. This is an excellent choice for keeping the ceilings clear of any hanging light fixtures. It makes a room feel bigger and once again, you have control of how much light. Some options include being able to direct the light against a wall or into a room explains an electrician. Los Angeles property owners can take a look at the different lighting options and then give The Electric Connection a call to schedule their lighting renovation.