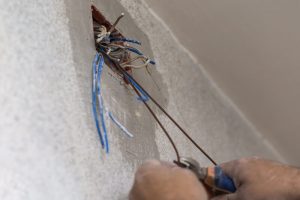 House rewiring is a tough project. It is disruptive and demanding of funds and electrical experience. The answer to if you need an electrician for a house rewire is yes.
An electrician is the technician that determines whether you need a house rewire. But after this, many homeowners prefer to consider making a house rewire a DIY project. It's only possible to do this if you have the knowledge and experience with electrical service.
Read on as we discuss the reasons why you need an electrician for a house rewire and other tips like the steps to take to rewire your home with or without an electrical technician.
Why you need an electrician for a house rewire
Statistics show that the average American homeowner has 9 unfinished projects on their to-do list. 55% of these homeowners will attempt to DIY the projects and only 31% of these end successfully.
While DIY culture is booming, it's important to remember that there are several factors involved in projects like a home rewire. For example, safety precautions, appropriate materials, building codes, permits, and more.
DIY is risky in many ways. It's risky to your health and life as well as that of others and your property. Electrical work is dangerous business and without the right precautions, experience, or knowledge shocks, electrocution, and even fires can occur.
Most electrical projects like a home rewire usually require permits that ensure safety protocols and codes are being followed. Performing such electrical work without a permit is against the law and comes with legal consequences. Also, if someone in the home should get hurt from such improper work, you could be persecuted.
Hiring a professional electrician for a home rewire guarantees your electrical safety and efficiency. It is also cheaper and compliant in the long run.
Tips for safely rewiring your house
Find out if you need to get a permit and do so.
Carry out an inventory to know the materials you need for the project.
Consider any additions you would like.
Create a plan that shows what will be done and when it will be completed, especially when working with an electrician.
Avoid damaging the existing infrastructure.
Hire an electrician familiar with working on older or existing buildings.
Stages of a house rewire
A house rewiring project usually takes two distinct stages. The first stage involves the circuits, wiring, cabling, and back boxes replacement.
The second stage involves light fittings, faceplates, and sockets installation.
How often should you rewire your home?
Unlike regular repairs and replacements, a house rewire is hardly needed often. There is no specific timeframe for rewiring you home as electrical systems have a life span that depends on factors like use. If your home is over 25 years old or up to, it will benefit from a rewiring project or updating. You should carry out electrical inspections every 10 years if you are a homeowner or every 5 years if you are a landlord to ensure electrical safety and efficiency.
If you think you may need a rewire in Los Angeles, call our office and we can send one out to assist your situation. Your Los Angeles electricians are standing by waiting to help!