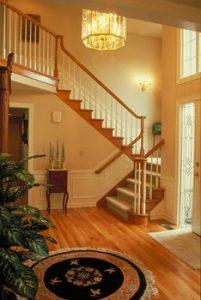 When you open the door to your home, you are instantly hit with a first impression—so are your visitors. If you are selling your home, that first impression starts outside, but walking through the front door is where you really have the chance to impress a potential buyer. Your home is your castle and you want it to look as nice as possible. It doesn't have to be a mega mansion or a brand new home to be gorgeous. You can make your home look like a million dollars with some simple adjustments like paint, décor, flooring and lighting. One of the ways to really impress the second that front door is opened is with a chandelier in the foyer or entry way. This is something that can be handled by an electrician. Pasadena homeowners will be amazed at the difference an entryway chandelier changes the entire look of the home. At The Electric Connection, we can help you be proud of your home.
A chandelier gives a room a very elegant feel. Beautiful glass combined with light creates a beautiful sight. This is what you will see when you open that door every day. The chandelier can be accompanied with a dimmer switch installed by an electrician in Pasadena. It gives you the luxury of having full light on a dark night or just a little night light for when you get home after dark.
Chandeliers are not just for the entry way. They are beautiful pieces in a dining room or a sitting room as well. Their simple elegance is enough to be a main focal point in a room with very little other décor needed. You can choose to go big or go small. Your Pasadena electrician will take care of all of the installation for you, even if there isn't an existing light in the room. Give The Electric Connection a call today and schedule your chandelier installation.