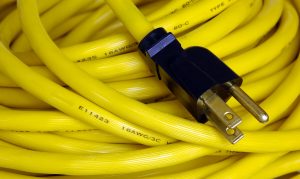 It's exciting to deck out the front yard, the house and of course all over inside the home with pretty holiday decorations. Bright lights and big, extravagant moving decorations are something many homeowners take pride in. For some, it is a bigger is better. There is certainly some friendly competition between neighbors, which can be great for visitors who love to see the grandeur. However, there can be some safety concerns when that must electricity is being used. One of the most important things to remember this season is electrical safety. Your electrician in Beverly Hills wants you to be safe this season. The team at The Electric Connection can help make your holiday decorating easier and safer.
Extension cords can help connect those lights and big decorations, but you want to be sure you use the right cord for the job. Outdoor electrical cords are specifically designed to withstand the elements. Never use flat cords that are only to be used outside to try and plug in lights outside. Stick with the big, heavy round cords that are typically 3-prong.
Never connect more than 2 cords together. Ideally, you will only want one cord connected to a light socket. If you find your cord is simply not long enough, call an electrician. Beverly Hills homeowners can have additional outlets installed in the outer edges of their yard and landscaping, which makes decorating a breeze and can prevent having to use an extension cord altogether.
Never connect more than three light strands together. This could overload the circuit. LED strands are a little more forgiving because they take very little energy to run. Again, call your Beverly Hills electrician to install more outlets if needed. It is cost effective and makes decorating a breeze. Give The Electric Connection a call today if you have questions or want those additional outlets before it is time to deck the halls.