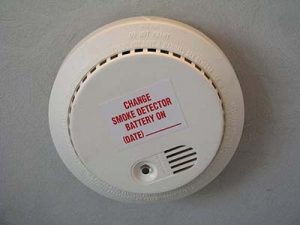 This is the time of year when home fires seem to be prevalent. The addition of heaters, burning in fireplaces or woodstoves and the additional holiday decorations can increase the risk of a fire in the home. It makes more sense than ever to give your home a little bump in the safety department by adding another layer of protection in case of a fire. A hard-wired smoke detector is an excellent option for those who are worried their battery-operated smoke detector won't be working at a time that is most important. An electrician in Los Angeles, like those at The Electric Connection, can help you sleep a little better at night knowing your home has several functional smoke detectors.
Hard-wired smoke detectors respond the same as a typical detector, but instead of relying solely on batteries, they are wired directly into your home's power. Another real benefit to the hard-wired detectors explains a Los Angeles electrician is the fact they are all connected. When one alerts they all alert. This means that no matter where the smoke is first detected in the house, the entire household and even in the garage will be alert to the potential fire. This can add minutes to your escape time or give you time to catch a small, manageable fire before it engulfs the entire home.
If you have a home security system, this is typically the type of smoke detector that is used. There are apps that allow you to connect the smoke detector to your smartphone to alert you something is wrong. All of these are things you can discuss with your electrician. Los Angeles homeowners who want to do a little more to ensure the safety of their home and the occupants can give The Electric Connection a call today and schedule a fire detector installation.