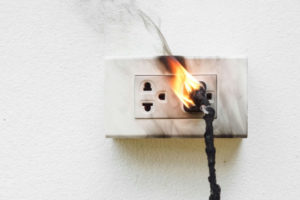 Your electric system works 24/7 providing the power you need to make life easier. While you might wish this efficiency can last forever, this is usually not the case.
The good news is, despite how complicated electricity can be for inexperienced eyes and hands, there are signs of electrical problems you can look out for as a homeowner in Southern California.
Staying alert or watching out for these signs can protect your home from severe issues like electrical fires. It can also help you spend less on repairs or replacement when the problem is discovered on time.
Here are 7 signs to look out for.
Unfamiliar or burning smells
Electrical burning smells can be hard to miss. This makes it easy for you to find the source by following the smell. If the strange or burning smell is coming from an outlet, your panel, or any other electrical installation stop using it immediately and call an electrician. Burning smells may indicate that damage or an electrical fire has begun. At the same time, new appliances often emit a strange odor when they are first installed or plugged in. This could stem from the finish, paint, or material used on the appliance and nothing serious.
Flickering lights
Flickering lights indicate a power surge or damage to your electrical wiring. When your lights flicker, buzz, or dim when turned on, or if an appliance is plugged in, then your system likely needs an upgrade. You can call an electrical technician to inspect and determine the problem.
Buzzing sounds
Buzzing sounds from your fixtures, switches, outlets, or appliances can be worrying. These installations should mostly operate silently. If you hear consistent buzzing noises call an electrician to fix the electrical issue.
Frayed or chewed wiring
Pets, rodents, cheap products, and inexperienced handymen can lead to frayed or chewed wiring in your home in Southern California. This sort of damage is both a shock and fire hazard that should be handled immediately. Contact your electrical contractor in Southern California to inspect your entire wiring and replace any damaged parts.
Warm or sparking wall outlets
If wall outlets or switches are warm to the touch, they may indicate loose or damaged wiring. Call an electrician to check and replace any damaged wiring.
Circuit breaker trips
Your home breaker is designed to trip, to protect your system from overload or power surges. When these protective trips occur, it's easy to switch your breaker back on and continue using your efficient system as normal. However, frequent circuit breaker trips are a sign of something deeper and dangerous in your electrical system. Call an electrician to confirm as soon as you observe this.
Cheap or fake electrical products
You can find cheap electrical products for your home in Southern California anywhere. While the lower than normal price may seem enticing, most of such products are made with fake materials or not up to industry standards. They can go on to create dangerous problems or electrical hazards in your home. Always purchase quality electrical materials or products for your home.