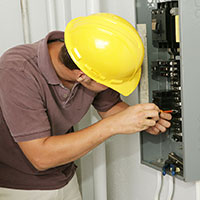 If you have determined you need an electrician, you are probably wondering how to best find the right electrician for you and your needs. It can be tough to find an electrician in Santa Monica you can trust to get the job done right without overcharging you or doing work that is substandard. You can always count on the crew at The Electric Connection to provide you with excellent service every time. The following tips will help you find the perfect electrician for your needs. Yes, you do have the right to "interview" potential candidates.
Do not waste your time or money by hiring an electrician who is unlicensed. Ask for the license number if it is not readily available on their business card.
Ask if the electrician is insured and for how much. If the electrician isn't insured for at least $500k, it is best to look elsewhere. Although this may seem like a lot of money, it doesn't take much to burn through that much money if there is major damage or injury caused by faulty wiring.
Ask to see references or ask for numbers of clients who have used the electrician's services in the past. Do your due diligence and make the phone calls. You can also check Angie's List and online for reviews.
Ask the potential electrician how they go about the job. Will they give you updates about the status of a job? Will they contact you about unforeseen expenses that might pop up before making the decision to tack the extra money on to your bill? Communication is crucial when you are dealing with any contractor.
Ask if there will be a detailed estimate of the job. You need to know just what kind of Santa Monica electrical work you are paying for. An estimate will help you budget and compare prices to other electricians.
If you need a reliable and reputable electrician, give The Electric Connection a call.