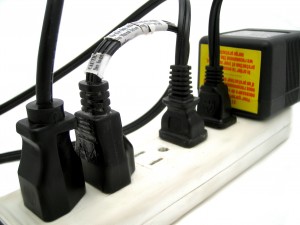 We live a world that is very plugged in. All of gadgets that keep us updated with work, play and family require a charged battery that can only be achieved by plugging the unit into the wall. We have an electrical appliance for just about any task we have. All of this means we are very dependent on the electricity we are so lucky to have. Sometimes, our needs surpass the supply. How many times have you had to dig out an extension cord because you were short on outlets or you needed to charge your laptop while you were in an area that didn't have an available outlet? It happens a lot. You need the services of an electrician, like those at The Electric Connection.
Additional outlets installed in your home or office can make life easier. It allows you to streamline your work space whether you are cooking dinner or working on a big project for work. You don't have to figure out what to unplug so you can plug in another device. You can have it all with the help of an electrician in southern California. It doesn't take a lot of work and there won't need to be a complete remodel to add the additional outlets.
In some cases, the electrician may need to add an additional breaker to support the new outlets. This is generally when you want to run a large appliance, like a refrigerator or stove, or when you already have a number of appliances on the same breaker. This is something that will be evaluated before any electrical work is started. An additional breaker is usually not an issue. In rare cases, a panel upgrade may be necessary. This is usually for older homes that have limited breakers or outdated wiring. Give The Electric Connection a call today and get started on your way to electrical outlet freedom.