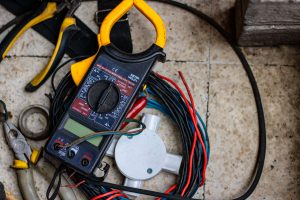 A lot has changed with the way homes are built and wired. Some decades ago a physical key and a lock was the only way you could go in and out of your home but today we have digital locks and virtual keys. Those who never thought of such possibilities for the future might have had a hard time incorporating changes like this in their home. Hence, as your go-to for all things electrical, we will discuss how to wire your house for the future.
First, it is important to know that wiring your home for the future is a project that requires an expert electrician. It may seem demanding at the time, but you will reap the benefits in a few years or even months.
Future home wiring involves creating a system that allows you to combine the different wiring around the home into a network. It is built to enable the integration of various smart systems and sensors in the home now or at a later date. It also ensures that you can conveniently add more systems such as lighting, security, and internet communication systems for your comfort. When you think about it, wiring the home for the future is something everyone should do.
Learn the basics.
When wiring your home for the future, there are a number of systems that will control various functions across your property. These include:
Audio and video
Security
Heating and cooling
Computer and Internet
Telephone
Smoke detection
Irrigation
These systems must be wired to a central location in the house. You must choose the control area wisely with the help of the electrician. The control area should possess the following features:
A moderate room temperature
Enough physical space for a wall panel and equipment rack
Easy access, dust-free location
Close to the area where service feeds like the Internet enters the home
Lots of outlets
Components for the wiring
Infrared (IR) controls
Infrared is the technology that represents remote control features. Several current homes and those of the future require remotes to control some installed automated systems. IR controls are used to make this possible.
Category 5e and Category 6 (CAT-5e AND CAT-6) cables
These cables are Ethernet cables that future-proof your house for years to come. They connect computers and all computer-based systems to a network.
Patch cables and Patch panel
Patch cables are used to connect devices to each other. They are used with a Patch panel to link all smart home devices. The Patch panel is like an organizer that houses plugged in electrical components and helps to distribute signals.
Wiring
Ensure your electrician runs three wires to each switch in the home- hot, neutral, and load wires. Although some electricians do this, it is important to state your preference to be sure you have a neutral wire for future home automation installations.
Next is the use of deep junction boxes. Deep junction boxes give you room to work and accommodate new systems. It is worth the peace of mind when you need to install in-wall devices.
Install cable conduits and terminate them into junction boxes. Cover these boxes with a faceplate if there is no urgent use for them. Make sure you have one in each room located at eye level. It is much easier to make this addition during construction than later when it is needed.
Include wiring in the ceiling or in the wall for speakers. This comes in handy when you need a speaker or audio system across rooms. Other variables for this wiring project like size, number, and type of wires can be discussed with your electrician.
If you want to get your home future-ready, give The Electric Connection a call today!