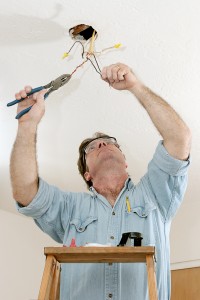 When you are shopping at the home improvement store, many of the projects look so easy. It seems fairly simple to change out that tired old light fixture in your bedroom with a more modern one that matches your particular style. The box comes with everything you need, so how hard could it be? It can actually be very hard and extremely dangerous for the novice who has no idea how to connect wires safely. It is always best to be safe and hire an electrician in Burbank, like those at The Electric Connection, to complete any project that involves electricity.
Although those new light fixtures appear complete, there are still some serious safety precautions that need to be taken to ensure you don't get electrocuted. There is also the concern of wiring the fixture incorrectly, which could be a serious safety hazard explains a Burbank electrician. When you hire a professional to take care of the installation, you get the peace of mind knowing it is going to be done right and it is going to look great once its complete. Light fixtures can be heavy and if you do not get them positioned just right, you risk them falling down or becoming loose.
Upgrading your light fixtures is something many homeowners do for aesthetic reasons, but there is also some cost savings involved in many cases. New fixtures are often designed to accommodate CFL bulbs or the much more energy efficient LEDs. You will save money on your electric bill by updating your light fixtures with the help of an electrician. Burbank homeowners that have found the perfect light fixture and want it installed can call The Electric Connection. Never risk your safety or the safety of your home by taking on an electrical job is you don't have the knowledge or experience.