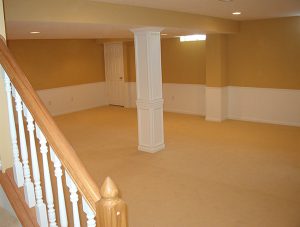 Basements are excellent spaces for storing things you don't want taking up space on the main floors of your home. Unfortunately, it doesn't take long before the basement becomes a bit of a catch-all and gets crowded. The lack of proper lighting and the walls in general don't make the space very appealing, so it seems like the only thing it is really good for is hiding your storage. What if you could add spruce up the basement, even just half of it and make it a little more inviting? Would you do it? An electrician in Los Angeles can help you transform the dark space into one that looks beautiful and is filled with light. The team at The Electric Connection wants to help you do just that.
One of the biggest problems you will find in a basement is the lighting. It is either way too dark or way too brightly lit with some garish shop lights that will blind you if you look directly at them. The lights tend to leave a yellow glare on everything and it is just unpleasing overall. Imagine being able to step down those stairs into a room with carpeting or vinyl, paint on the walls and beautiful lighting that gives the room an inviting feel. Your Los Angeles electrician can really do that—the lighting part of it anyways. Really, the lighting is one of the most important details. It can make or break a space.
Basements are tough to work with because of the lack of natural light and the low ceilings. In order for the space to look big and bright, recessed lights should be installed by an electrician. Los Angeles homeowners will love how much light there is in the space. Another perk is they are not going to lose any ceiling space. The lights are recessed right into the ceiling so you don't have to worry about your tall friend hitting his head. Give The Electric Connection a call today and schedule your basement lighting installation.