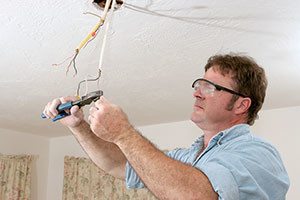 It is that time of year again! Spring is here and the flowers are starting to bloom as well as the trees. You are probably already dusting off your lawn furniture and getting ready for another season of mowing the lawn and trimming the hedges. Don't forget to take a look at your landscape lighting as well. There are probably some lights that need replacing or maybe you are considering adding more lights or replacing your solar lights with electric lights. No matter what the case is, you will want to hire an electrician in Santa Monica to get the job done right. The team at The Electric Connection is ready to help you get your landscape lighting in tip top condition so you can be proud of your yard this summer.
Landscape lighting has come a long way in the last decade. There are so many different kinds of lights to choose from you are sure to find something that fits your personality and style. You don't have to stick with the typical lantern-style lighting lining your walkway. Go bold and add a little flair to your landscaping by choosing lights that are a little different from the norm, but still just as effective. Once you have chosen your style of lights, call your Santa Monica electrician. You will want to make sure the lights are installed properly and will work throughout the season. Electric lights tend to be more reliable than their solar counterparts. They can also be placed in shady places under shrubs and on the shady side of the house.
Because there are some electrical wires associated with electric landscape lights, it is best to have the job completed by a professional electrician. Santa Monica homeowners will feel better knowing it was done right and their home's safety has not been compromised by incorrect wiring. Give The Electric Connection a call today and schedule your landscape lighting install or upgrade.