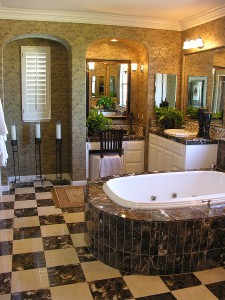 Your bathroom is a room that tends to be ignored when you think of sprucing up the house. It seems like a small space and it isn't something that is regularly seen by visitors. However, you probably spend some time in there and would like it to be a little nicer. A new tub, vanity and sink are all great ways to make the room look more inviting, but they can be a little out of your price range. What if you could spruce up the bathroom for less than a couple hundred dollars? An electrician in Burbank can help you transform your bathroom with a few simple light changes. It is that easy and the crew at The Electric Connection would love to help you make it happen.
You can do so much more than the standard light in the center of the room and the typical large bulbs around the bathroom mirror. You can enhance the bathroom with soft lights that are great for those times you just want to soak in the tub and relax. A Burbank electrician can install a dimmer switch that will allow you to control the amount of light that floods your bathroom. You can go for a little or a lot.
Wall lights that resemble the old fashioned candles are beautiful and really add character to the bathroom. Recessed can lights are also a great option for the bathroom and shed a great deal of light without taking up any head space. Another feature many enjoy is the heat lamp installed by an electrician. Burbank residents will love stepping out of the shower into a heated room. It is also great for keeping the humidity down in the bathroom, which will go a long way to preserving the paint and woodwork. Give The Electric Connection a call today and schedule your bathroom lighting renovation.