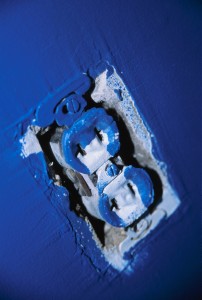 The summer time is great for hanging out outside with friends and family. Backyard barbecues, pool parties and chatting into the wee hours of the night are all a part of making memories. Your memories likely include some electricity. Yes, it seems strange and completely off base, but electricity can make your backyard summer days a little more comfortable and convenient. Maybe you need to plug in your docking station or maybe you need to charge your phone or laptop. You don't want to be cooped up inside or leave your phone behind. You need an outdoor outlet or two. An electrician in Beverly Hills is here to explain the importance of having outdoor outlets places around your yard and patio area. The team at The Electric Connection can answer any more questions you may have about the convenience.
Homes are required to have at least one outdoor outlet in the front of the house and another in the back. This is really not enough to keep up with today's technological world. If you have electric weed eaters or hedge trimmers, you will be forced to use several extension cords to reach the far corners of the yard. This can be dangerous as well as frustrating. A Beverly Hills electrician can make your landscaping duties a little easier and safer by installing a few more outdoor outlets to cut down on your need for so many extension cords.
Outdoor outlets also make it much easier to light up your yard for the holidays. Overloading a circuit is a common issue when you try and connect several strands of lights or decorative yard items on one outlet. This is actually a fire hazard that can be avoided with one call to your electrician. Beverly Hills homeowners will appreciate the freedom and flexibility several well-placed outdoor outlets gives them. Give The Electric Connection a call today and schedule your installation.