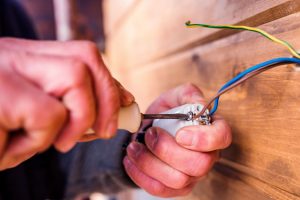 The electrical system to your house can be an expensive thing to upgrade but might be a necessity to help protect your home's value and your family's lives.
When you don't have enough power to run your home, it can be more than just an inconvenience. Tripping breakers can not only just shut off your devices, but it can also cause damage to the more sensitive electric devices. Having enough energy is critical to keeping all the appliances in your home up and running at optimal levels.
Your home may seem like it has enough power, but even if things are running fine, it can use still need an upgrade. Have you ever turned on every device in your home at the same time? This is not recommended but you can truly find out how much your panel can handle when everything is turned on. There is an easier way to find out what amperage your panel is – by inspecting it. A professional electrician can also help you determine the amount of load your panel can handle.
With enough power being supplied to your home, it can still be difficult to find power in different areas of your home. Without sufficient recepticles in your home, you may rely on unnecessary power strips or extension cords. These cords and strips can cause dangerous safety hazards such as trips and falls or even fires. An electrician can help you place additional outlets around your home.
If your home has sufficient power and enough outlets, you may still find yourself needing a house rewire. This is when all or some of the wiring in your home is replaced with new wiring. A house rewire could be necessary for a variety of reasons – age, degrading wiring, hazardous wiring, etc. An electrician can help you determine whether or not you need a whole house rewire.
The cost of a house rewire depends on a lot of different aspects of your home including size, age, and how much of the home needs to be rewired. Again, an electrician can give you a definitive answer on the cost to rewire your home, but you can expect to pay around $3,500 to $8,000 for a full house rewire – especially if all the walls need to be opened up to access the wiring.
A professional electrician should be able to assess your situation and give you an accurate quote for a house rewire. This is a large project so be sure to do research before choosing the best electrician.
If you live in the Los Angeles area and are looking for proficient, understanding and honest electrical experts, we hope you will consider using The Electric Connection of Los Angeles for your electrical work.