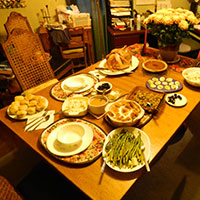 Are you planning on having lots of family and friends over this holiday season? Maybe you are hosting a lavish party or a quaint dinner party. Whatever the case may be, wouldn't it be nice if you had a little more space or if your kitchen was setup a little differently to make cooking for a large party easier? There is no better time to remodel your home. Consider it an early gift for yourself. A gift that will add value to your home while making it a little more enjoyable for you to live in. If you are ready to make that basement remodel or kitchen remodel happen, now is the time. Your electrician in Beverly Hills, like the team at The Electric Connection, is here to help.
You will likely need to hire a contractor to do the remodel. It makes it easier and you can keep up with your busy life. A remodel will involve some Beverly Hills electrical work. Whether you are tearing down walls, adding on a room or moving appliances around, you will need an experienced electrician to complete the wiring portion of the remodel. Meet with the electrician and discuss what it is you need. If you need extra outlets on one side of the room or would like data lines in a certain place, communicate that to your electrician.
It is important you choose an electrician who will work well with your contractor. Being licensed to perform the work is also an important factor. Remodels will require permits from your county building department. You want to make sure the wiring passes inspection the first time. By hiring a qualified electrician you can ensure the process will go smoothly and your remodel is finished in time for the holidays. Give The Electric Connection a call today and get started transforming your home.