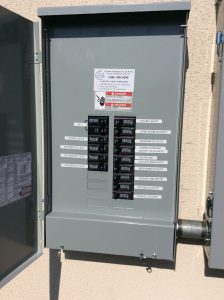 A refrigerator is almost a must-have in modern homes and as such various models hit the market every day trying to meet up with homeowners' needs. When you purchase a new refrigerator, it's fine to wonder if there will be any complications with your home's electrical system.
Your home's electrical system and panel precisely might seem like superheroes who never tire but make no mistake, it has a limit to what it can take.
There are several reasons you might need a panel upgrade with or without your purchase of a new refrigerator. They include:
More power
An old home yet to be rewired likely has a 60-100 amp electrical panel. Modern homes typically have a 150-200 amp service and larger homes can even invest in a 400 amp service. As you would observe the capacity for home panels seems to increase over time. It's only natural following the constant introduction of various home appliances on the market. Hence, when adding any home appliance it's important to ensure you have sufficient power.
An upgrade gives you more power and the flexibility to do this without the worry of putting stress on your electrical system. If your amperage is insufficient for new additions, the breaker will trip frequently and be at risk of electrical issues. Power-hungry appliances in any home often include air conditioner, electric clothes dryer, electric range, hot tub, and refrigerators. An upgrade becomes necessary for you to enjoy a safe system with the freedom to add new appliances.
Faulty wiring
Flickering or dimming lights, sparking or discolored power outlets, burning smells, and more are warning signs that indicate faulty wiring. Your home electrical wiring was built to last, but not forever. As the wiring deteriorates with use, the need for rewiring and upgrade can come up.
Old-fashioned fuse box
Circuit breakers and fuses perform the same function, but fuses are outdated because of their limitation to one-time use. While circuit breakers have to be reset after tripping to prevent a short circuit, fuses melt and disrupt the flow of power. Fuse boxes are often found in old homes and you will need an upgrade to change them.
Despite these reasons, only an electrician, like those at The Electric Connection, can determine if an upgrade is what you need. Upgrading from a lower amp to up to 200 amps can cost up to $3000. The project usually requires a permit and will be inspected after completion.
Refrigerators and your electrical panel
Refrigerators come in different design, styles, and sizes, but they all typically require a dedicated 115 or 120 volts with a properly grounded branch circuit. This should also use a 3 prong grounding type receptacle, protected by a 15 or 20-amp circuit breaker or time-delay fuse. If you are plugging your refrigerator in with a generator as the power source, you will need to know the wattage. You can find the exact figures written on the refrigerator's rating plate. Make your calculations using volts x amps = wattage.
A fact to note is that the amps or wattage needed to start the refrigerator is 3 times its running amps or wattage.