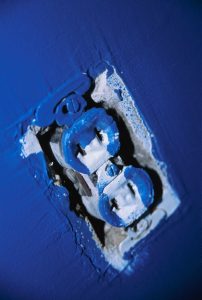 The saying, "Out with the old, in with the new," can apply to many aspects of our lives. As time marches on, we realize we need new clothes, new vehicles and sometimes new homes. No matter if you are staying in the home you have always been in or moving to a new home, the old adage needs to be applied to the electrical work in the home. Your Burbank electrician wants you to be aware of the hazards of old electrical. The team at The Electric Connection is here to help you bring in the new when it comes to the electrical in your home.
There are many areas that need to be evaluated to determine whether an update or full replacement is warranted. Some of the areas you should have an electrician in Burbank check out are as follows;
Light switches—make sure the wires are tight and the switch is in good condition
Outlets—tight wires, no damage
Light fixtures—may have bad wiring or unsafe wiring
Electric Panels—old panels may not have the current high standard safety features
Wiring—This is a big one, but incredibly important
Homes that are more than fifty years old are likely going to have some outdated wiring and fixtures. Updating the wiring will make the home safer by removing any potential hazards. A bigger panel, new light fixtures or even more outlets can make the house a little more functional for you and your family's needs. In this tech-heavy world, we use a lot more electricity than they did fifty years ago.
Time, experience and technology has led to a lot of advancement in residential electricity, which includes some very useful safety features. These can all be explained by your electrician. Burbank homeowners can get an electrical inspection to pinpoint any potential problems. Just give The Electric Connection a call today.